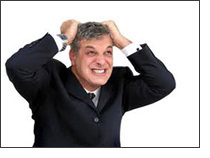 This article was originally published
here
One's negative attitude shows itself in many of one's mannerisms. Demonstrations of your mannerisms precedes any opportunity to appear before an
employer
. Failing to control your mannerisms can prevent you from getting to the interview. Below are some signs of a negative attitude. These are things you should keep in mind when going out in public.
1. Arrogance impresses no one. You may have been outstanding at what you did, and you may be outstanding in the future, but keep in mind that diplomacy is your best card at this time. You will be relying on many people to help you in your job search, and most people don't appreciate being looked down upon.
2. Apparel is one aspect of your attitude. During the summer it's hot out there, but please refrain from wearing gym shorts and tee—shirts with Budweiser advertisements. At all times make sure you are well-groomed and presentable–you never know when a potential employer might be just around the corner.
3. Your countenance is more noticeable than you think. I've witnessed people who walk into the career center looking as if they'd like to strike anyone in their path. Their mouth looks like it was chiseled into a constant frown. There seems to be hatred in their eyes. This can be intimidating, let alone off-putting.
4. Be outgoing…or at least fake it. For you introverts (I can relate), try to use every opportunity to network. Your most vital job search technique must include networking. It's not as hard as it appears. You don't have to see networking as only going to arranged events. It's a daily thing and that's why you have to be on your game every day. One job seeker I know told me he was meeting someone for lunch, and he was dreading it. Nonetheless, he met the person for lunch. He faked it.
5. Mind your manners. "Thank you," "it was great seeing you," "hope your day is wonderful," etc., go a long way. These are things we learned in Kindergarten, yet not all of us practice the niceties as much as we should. I am often thanked by customers after a workshop or in an e-mail. They're the ones who do the hard work, and their hard work will result in a job.
6. Don't appear desperate and despondent. Most people want to help you, but if you seem like you are giving up the battle, your peers, career advisors, and people employed in your industry, will doubt your ability to succeed at your next job. "Don't let 'em see you sweat."
Why does this matter?
Simply put, your job search is ongoing. You are being judged wherever you go. The man or woman who has the authority to hire you, may be standing behind you in the checkout line. Those who try to help you take into account the aforementioned aspects of your overall attitude. If given the choice to recommend someone for a position, anyone is likely to back the person who has their attitude in check.
As I've said, maintaining a pleasant demeanor and appearing positive is difficult under an extremely stressful situation like being unemployed; but I'll guarantee you that a negative approach to conquering unemployment will not lead to quick employment. Be mindful at all times how you appear to others.
About the Author
Bob McIntosh, CPRW, is a career trainer at the Career Center of Lowell, where he leads more than 20 workshops on the career search. Bob is often the person job seekers and staff go to for advice on the job search. As well, he critiques resumes and conducts mock interviews. One of his greatest accomplishments is starting a LinkedIn group, which is one of the largest of its kind in the state, and developing three in-high-demand workshops on LinkedIn. Bob's greatest pleasure is helping people find rewarding careers in a competitive job market. Please visit Bob's blog at www.thingscareerrelated.wordpress.com.
Find more life science jobs here!
Check out the latest Career Insider eNewsletter – December 5, 2013.
Sign up for the free weekly Career Insider eNewsletter.
Related Articles
* 10 Warning Signs You've Outgrown Your Job
* 10 Most Common Blunders People on the Job Make
* 9 Traits All Outstanding Colleagues Display
https://captis.com/wp-content/uploads/2013/12/enewsletters.biospace.comemployee-2312d09c2ee8c0ccd2688b45a31b861d6104b705.jpg
158
210
CAPTIS
https://www.captis.com/wp-content/uploads/2016/11/logo_transp_top_final.png
CAPTIS
2013-12-04 15:00:00
2017-03-22 17:16:20
6 Good Reasons You???re Still Unemployed