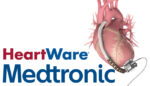 Medtronic (NYSE:MDT) today touted more data on the HeartWare left-ventricular assist device it acquired in 2016, saying economic analyses of prior trials showed its cost effectiveness.
The Fridley, Minn.-based medical device giant said one analysis, of data from the Lateral thoracotomy study showed that patients implanted with its HVAD pump incurred lower hospitalization and medical supply costs than patients implanted via sternotomy. The average total cost per thoracotomy patient was $204,107, compared with $260,492 for traditional median sternotomy. Lateral also showed an 87% survival rate at two years and a 30% in length of hospital stay for thoracotomy patients, compared with sternotomy patients.
The second analysis studied HVAD as a bridge to heart transplant or as a so-called "destination therapy" for patients too sick to undergo a transplant, using data from four studies, Medicare and Seattle Heart Failure Model estimates. Incremental cost effectiveness in bridge-to-transplant patients was ⅔ lower ($69,561) for HVAD patients, compared with $226,300 in 2014. In destination therapy patients, the ICER was $102,499 for the HVAD device, compared with $209,400 to $802,700 for competitive LVADs.
Results from both analyses were presented in London last week at the annual meeting of the International Society for Heart & Lung Transplantation.
"These economic analyses illustrate the value of the HeartWare HVAD System for patients with advanced heart failure," cardiac rhythm & heart failure CMO Dr. Rob Kowal said in prepared remarks. "Most important are the patient benefits – shorter hospital stays and improved survival – with the less-invasive thoracotomy approach, but there are also healthcare system benefits tied to patients spending fewer days in the hospital and their related supply costs."
"These studies help us understand the cost effectiveness and economic value of the HVAD System, demonstrating a greater level of cost effectiveness than previously reported for LVAD therapy," added Dr. Scott Silvestry of Orlando, Fla.'s AdventHealth Transplant Institute. "The progress toward greater cost effectiveness is an important advance that will support wider adoption of LVAD therapy for indicated patients."
Last week Medtronic touted a retrospective analysis of two studies showing that managing blood pressure reduced the severity of strokes in patients implanted with the HVAD pump.
https://captis.com/wp-content/uploads/2019/04/medtronic-heartware-7x4-150x86.jpg
86
150
CAPTIS
https://www.captis.com/wp-content/uploads/2016/11/logo_transp_top_final.png
CAPTIS
2019-04-08 07:39:06
2019-04-08 08:01:58
Medtronic touts economic data for HeartWare HVAD