This article was originally published
here

March 16, 2015
By Tami Rubino, BioSpace Hiring and Branding Guru
"I hired over a 100,000 people in my career," said Arthur "Arte" Nathan, chief human resources officer for Steve Wynn's gaming corporation.
Every once in a while, you hear something that stops you in your tracks. That's exactly what happened to me a few weeks ago at a sales conference in Manhattan Beach, Calif.
The lights dimmed and an older, stately gentleman walked out on stage. Arte had served most of his career hiring most of the personnel who worked in the famous Wynn hotels and casinos.
In the hospitality industry, hiring people with a good attitude is key to having great service. Arte invented an ingenious way to test candidates for this "it" factor. For Arte, it was all about how people responded to being interrupted. He vividly described the setup: Each candidate being ushered down a long hallway to an interview room. At the end of the hallway, a sign would direct candidates which way to turn. Arte would wait patiently and just as the candidate rounded the corner, he would unexpectedly greet them in an up close and personal way, by booming "Hi, I'm Arte Nathan, nice to meet ya!"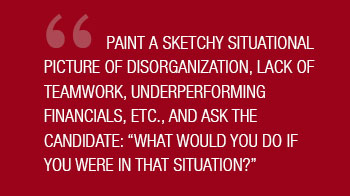 The candidate's response—either good-natured and inviting, or startled and stand-offish—would determine whether they continued on to the interview room or found themselves at the door with the EXIT sign overhead. It was that simple for Arte, regardless of what was on their resume.
This got me thinking about my own approach to hiring staff. I post jobs based on a description of desired skills and experiences, then I wade through countless resumes and interviews trying to identify the soft skills that are necessary to survive and thrive in our unique culture.
Still, I couldn't get Arte's message out of my head. I imagined a world where companies hired for attitude and optimism over skills and experience. I thought about core values of embracing change, yet employees seem to resist every move that leadership makes. I hear news stories everyday about big companies losing ground with their competitors and not keeping pace with their clients' needs. Is optimism the single missing ingredient from our workforce? How can that be? What does it mean to be optimistic anyway?
Two words stuck firmly in my head: Hope and belief. Optimism means being hopeful and confident about the future. Could it really be that simple? I laughed out loud. How had I missed this?
Hope and belief are the two most powerful influencers in the success of anything we do. Imagine an athlete training for countless hours in the gym without the dream of one day being a gold medalist. Would she really make that sacrifice without the intrinsic motivation of her end goal? Think of a soldier going into battle without the belief he could win the war. Is it even possible to defeat his opponent if he doesn't believe he can?
Now consider a manager or employee making a business decision without concern for its impact or the confidence that it's even the right thing to do. Sadly, this happens every day in our cultures. So how do you screen for this key ingredient during the hiring process?
First, it's important to consider the nuances of your own culture—if you cannot clearly articulate what your hope is and what you believe in, you really can't identify it in someone else. So start there. Paint a sketchy situational picture of disorganization, lack of teamwork, underperforming financials, etc., and ask the candidate how they would react: "What would you do if you were in that situation?"
If they use phrases like "anything is possible," "we'll figure it out" or "light at the end of the tunnel," that's a good indication they are hopeful in the outcome. Also look for words that indicate a willingness to go the extra mile, such as passion, conviction, faith, trust, and purpose. And don't mistake self-confidence as hope and belief. Look for people who are passionate about their abilities, but humble enough to belong to something bigger than themselves.
Hiring hopeful people who believe in what you do makes your organization extraordinary. These two qualities are the exact opposite of the biggest culture killers: complacency and passivity. Organizations who fill their resource coffers with people full hope and belief have the resolve and confidence to overcome any barrier that comes their way—these are the organizations that stand the test of time. These are the organizations that change the world. Will you let hope and belief drive your future hiring decisions?
Check out the latest Inside Recruiter eNewsletter – March 16, 2015.
Sign up for the free Inside Recruiter eNewsletter.
https://captis.com/wp-content/uploads/2015/03/enewsletters.biospace.combiospace-news-815x384-lif-bdf7a036321e8f042836ea21971e04edca1c14f1.jpg
384
815
CAPTIS
https://www.captis.com/wp-content/uploads/2016/11/logo_transp_top_final.png
CAPTIS
2015-03-15 16:00:00
2017-03-22 17:01:26
Defeat "Culture Killers" By Focusing on Hope, Optimism