This article was originally published
here

May 14, 2015
By Riley McDermid, BioSpace.com Breaking News Sr. Editor
Heather Malcolm is the director of human resources for Seattle-based Alder Biopharmaceuticals Inc., which is planning to grow by 30 to 40 percent in 2015. Right now, Alder is focused on using two proprietary platform technologies that accelerate antibody discovery and development. It currently has two lead product candidates into Phase II clinical trials for the treatment of migraine and rheumatoid arthritis.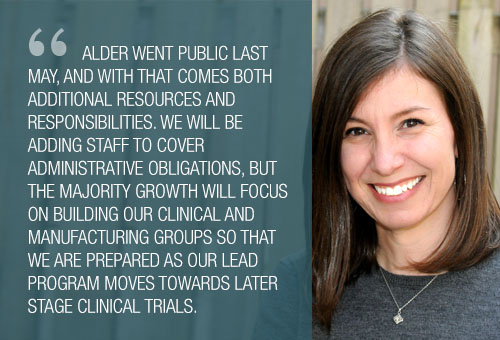 Last May, Alder completed its U.S. IPO, raising $80.1 million in net proceeds. In January 2015, Alder completed a follow-on offering resulting in gross proceeds of approximately $203.6 million, leading to an expansion of the company's business goals—and an uptick in hiring.
BioSpace (DHX) chatted with Malcolm about what she's been seeing on the human resource side, as the biotech sector continues to roar.
1. Where are you focusing on adding staff?
Alder went public last May, and with that comes both additional resources and responsibilities. We will be adding staff to cover administrative obligations, but the majority growth will focus on building our clinical and manufacturing groups so that we are prepared as our lead program moves towards later stage clinical trials, and as additional programs move through the pipeline towards clinical. Research will add a few key hires as well.
2. How many candidates would you say you see in an average year? Was that different in 2014?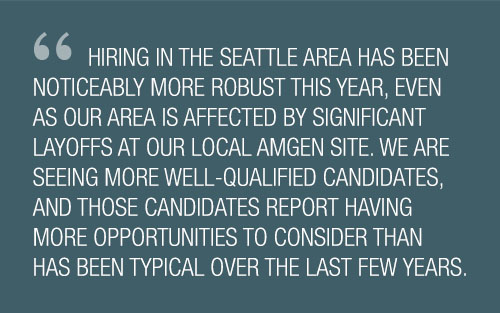 This can vary dramatically for us, depending on the year. This year, we are planning to grow by 30 to 40 percent, so we will see quite a few more candidates than we have in recent years. What has been an advantage for us is that we tend to see applicants who are already aware of what we do, and whose backgrounds are quite relevant for what we need. Once applicants move beyond our initial phone interviews (one with HR, one technical), they meet a good cross-section of employees during their in-person interviews. The enthusiasm and level of engagement of our interview team members really comes across to candidates, and I believe that contributes tremendously to our high offer acceptance rate. For most positions, we only need to do in-person interviews with three, occasionally four, candidates in order to find a great fit.
3. What does your company look for most in a job candidate, that's specific to your corporate culture?
At Alder, we are determined to find a way to move our programs forward and pride ourselves on being nimble and inventive. Our employees are a tight knit group who truly enjoy working together and who willingly invest time in building relationships across departments as well as with the outside resources such as contract organizations we use for clinical and manufacturing work. We look for those same traits in our candidates. Our interview teams love the candidates who express an intellectual curiosity that expands beyond their own areas of technical expertise, a willingness to pitch in and do whatever is needed, and a strong enthusiasm for what is possible for the future of Alder.
4. What hiring trends are you seeing right now in your sector, and how have those been affected such a boom year for biotech stocks?
As an emerging company (86 employees) with very low turnover, a conservative approach to growth and great candidate referrals from our employees, we tend to be somewhat insulated from the trends. Having said that, hiring in the Seattle area has been noticeably more robust this year, even as our area is affected by significant layoffs at our local Amgen (AMGN) site. We are seeing more well-qualified candidates, and those candidates report having more opportunities to consider than has been typical over the last few years.
https://captis.com/wp-content/uploads/2015/05/enewsletters.biospace.combiospace-news-alder-heade-7e806cae974e5b96391450c2c9472f102c160486.jpg
384
815
CAPTIS
https://www.captis.com/wp-content/uploads/2016/11/logo_transp_top_final.png
CAPTIS
2015-05-14 16:00:00
2017-03-22 17:19:16
HR Exec Says Alder Biopharma Will Grow 30% in 2015, As Hunt for Candidates Continues