This article was originally published
here

November 12, 2015
By Angela Rose for BioSpace.com
Imagine, for a moment, that you're a biopharma hiring manager.
Your senior quality assurance associate is retiring in two weeks, and you need to find and onboard a replacement as soon as possible. If you don't, your team won't be able to handle its workload—and your organization's production pipeline will falter. Of course, you have to deal with your day-to-day duties while preventing this disaster. So you use your company's ATS (or applicant tracking system) to review the resumes submitted in response to the job advertisement you've posted online.
Problem solved. Or is it?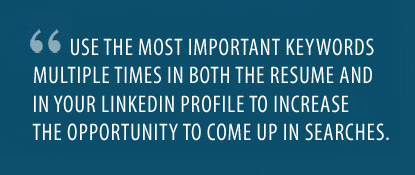 While many biotech and pharma companies are using ATS to streamline their hiring process, the actual usefulness of the software is limited by the keywords an employer searches in the system. Vicki Gaddy, Vice President of Talent Services at BioNJ, an industry association representing research-based life sciences organizations and stakeholders, recently told BioSpace, "We know, and employers frequently tell us, that by relying exclusively on keyword searches, we are all likely missing out on some of the very candidates we are seeking simply because they didn't use the word or phrase searched."
This means it's up to you—as a job seeker—to ensure your resume makes it through this technological gauntlet and into the hands of a hiring manager. Those keywords are the key—and here are four tips to help you choose the right ones.
1. Study the job description carefully.
"You need to know the language of the company so you can tailor your resume accordingly," advised Gaddy. As you review the job description, make a list of potential keywords. These will include the position title as well as words and phrases describing the responsibilities and requirements of the job.
2. Try to be as specific as possible.
Yes, this means you'll need to customize every resume you upload. However, the more specific your keywords are to a particular position, the higher your resume is likely to rank when reviewed by the ATS. Include plural words (such as "life sciences" rather than "life science") and numbers ("5 years of experience" rather than "five years") if necessary to mirror the job description. In the case of acronyms, you may want to include the shortened version (such as "QA") as well as spell them out ("quality assurance").
3. When in doubt, focus on the quantifiable.
During the initial screening process, employers are generally most interested in the hard skills you bring to the table. These include technical skills, industry software, credentials and education. Make sure you have these keywords in your resume. In the case of a quality assurance professional, these may include "cGMP regulations," "FDA regulations," "electronic documentation management systems," "regulatory inspections," "bachelor's degree" and "documentation standards."
4. Don't hesitate to repeat yourself.
While you shouldn't write a resume that reads like a broken record, it's acceptable—and even advisable—to include the most important keywords for any particular position multiple times within your resume. Natural locations are your skills summary and previous employment descriptions. "Use the most important keywords multiple times in both the resume and in your LinkedIn profile to increase the opportunity to come up in searches," Gaddy added.
Check out the latest Career Insider eNewsletter – November 12, 2015.
Sign up for the free bi-weekly Career Insider eNewsletter.
https://captis.com/wp-content/uploads/2015/11/enewsletters.biospace.combiospace-news-beat-the-at-c5786e8bd3f70825000f4937dab208fd2e71127b.jpg
500
815
CAPTIS
https://www.captis.com/wp-content/uploads/2016/11/logo_transp_top_final.png
CAPTIS
2015-11-11 15:00:00
2017-03-22 17:45:12
Life Science Exec Shares Advice: Four Tips for Choosing the Right Resume Keywords