This article was originally published
here

October 23, 2015
By Angela Rose, BioSpace.com News
Biotechnology, pharmaceutical and medical device employers in San Francisco and Northern California are preparing for the Fall Biotech Bay Talent Connect event as innovation and production continue to drive the demand for professionals in the Biotech Bay hotbed. The area has one of the largest aggregations of research universities and incubators in addition to some of the nation's largest life science companies including Genentech (RHHBY), Merck & Co. (MRK) and Gilead Sciences, Inc. (GILD). According to a recent outlook report from JLL, 1,514 organizations in the area employ 63,158 life science professionals. Year-over-year employment continues to increase steadily.


Tanya Doyle, Program Representative at UCSC Extension in Silicon Valley, describes the local life science job market as "exciting and full of opportunities." "The science is transformational, needing strong science candidates," she recently told BioSpace (DHX). "On the development side, clinical and regulatory, this is the strongest job market in years."
According to Cathi Bartice, Manager of Talent Acquisition at Dynavax Technologies (DVAX), it's certainly a market that favors job seekers. "We're all competing for the same talent," she said. Elizabeth Nguyen, Director and HR Business Partner at MyoKardia, agrees. In a recent statement to BioSpace, she said, "It's been a competitive market for top talent in the life sciences industry, requiring employers to differentiate themselves. The good news is that the Bay Area continues to be a great place to live and the talent pool is the best in the country."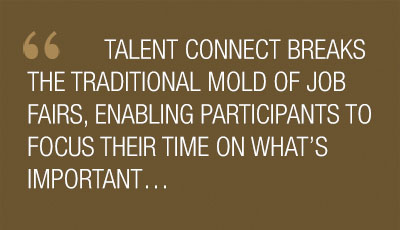 Brisk competition and that opportunity for differentiation are two of the reasons employers like Dynavax Technologies and MyoKardia attend BioSpace Talent Connect events. "Talent Connect is an opportunity for MyoKardia to meet and network with individuals in the life sciences industry that may be interested in working at our company now or in the future," Nguyen explains. "Talent Connect breaks the traditional mold of job fairs, enabling participants to focus their time on what's important—connecting people to great opportunities."
Job seekers who want to meet and network with representatives from Aerotek, Ardelyx Inc. (ARDX), Bulletproof Documentation, Inc., Contact Singapore, Dynavax Technologies, MyoKardia, NanoTemper Technologies, Rigel Pharmaceuticals (RIGL), Sangamo BioSciences, Inc. (SGMO), UCSC Extension in Silicon Valley and other Bay Area life sciences employers can do so at the Hyatt Regency San Francisco Airport on October 28 from 4 p.m. to 7 p.m. Each organization will be conducting on-site in-depth private interviews with candidates as they recruit for multiple job openings.
Pre-registration for the event is required, as is the submission of a resume for pre-screening and approval for the one-on-one 15-minute interviews. However, this effort on the part of job seekers is more than rewarded by the opportunities this fall's Talent Connect employers are offering.
"MyoKardia has been growing over the past year and is poised for additional growth as we continue to move our pipeline forward," Nguyen told BioSpace. "We are currently seeking innovative team members across most of our functions including Quality, Project Management, Drug Discovery, Clinical Development, and Accounting, and are always looking for top talent across the organization. We are looking for individuals who share our passion for doing great science and are inspired by the opportunity to work on therapies that can transform patients' lives. We seek out potential employees who in addition to being excellent scientists, clinicians and/or business people are agile, creative, and able to improvise and excel working in a collaborative, cross-functional environment."
If regional biotech funding trends continue, brisk hiring should as well. According to The MoneyTree Report by PricewaterhouseCoopers and the National Venture Capital Association, the Bay and Silicon Valley areas ranked above any other metropolitan regions for biotech funding in the second quarter of 2015. San Francisco Bay Area biotech firms raised $926 million in the second quarter of 2015, compared to $573.9 million in the first quarter of this year.
https://captis.com/wp-content/uploads/2015/10/enewsletters.biospace.combiospace-news-TalentConne-220625e5051d52b839ec878f5a94338aaff3184f.jpg
450
815
CAPTIS
https://www.captis.com/wp-content/uploads/2016/11/logo_transp_top_final.png
CAPTIS
2015-10-22 16:00:00
2017-03-22 17:47:45
Northern California Prepares for as Bay Area Life Science Companies Plan to Add Staff