This article was originally published
here

October 23, 2015
By Angela Rose, BioSpace.com News
Biotechnology, pharmaceutical and medical device employers in San Diego and Southern California are mobilizing for this fall's Biotech Beach Talent Connect event as growing investments and demand continue to drive the need for experienced life science professionals in the Biotech Beach hotbed. According to Biocom, a life science trade association, more than 900 biotech companies and over 80 research institutes call the San Diego area home. Big players include The Scripps Research Institute, University of California San Diego and the Salk Institute for Biological Sciences.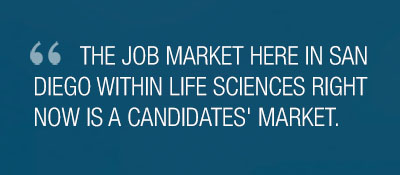 Recent economic data from JLL shows these organizations employ 63,730 professionals, with year-over-year life science workforce growth of 3.6 percent. Ruth Kelly, sr. human resources generalist at Ajinomoto Althea, describes the current employment environment as "healthy and growing." "There are diverse biotech opportunities in the area," she recently told BioSpace. "We typically have positions open at different experience levels and often times the trickier-to-fill roles fall at the mid-level with around four to eight years of experience."
Matt Herman, manager of talent acquisition at Hologic (HOLX), told BioSpace, "The job market here in San Diego within life sciences right now is a candidates' market. We are seeing more candidates with multiple offers and opportunities and in general, a fewer number of truly qualified candidates for our openings. There is a lot of competition for talent from the smaller or start-up companies that are so prevalent in San Diego."
The need for high-quality talent is one of the reasons employers like Hologic and Ajinomoto Althea attend BioSpace Talent Connect events. " Hologic is still fairly new to San Diego, and it's an effort to continue to get the word out about who we are and what types of positions we expect to be hiring for now and into the future," explains Herman. "It is a great time to consider joining Hologic: all of our divisions are experiencing growth, our stock price is consistently pushing new boundaries, and we are aggressively re-investing in R&D."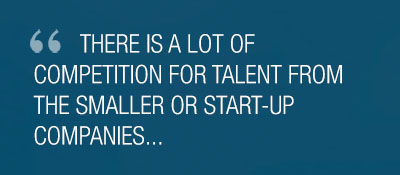 "We have had great success with Talent Connect due to the industry-specific and high-quality talent that we have seen attend in recent years," Kelly adds. "Talent Connect is a great opportunity for us to get the Althea name (and faces) out into the marketplace. We also think it's a great chance for candidates to do some research into potential employers before they apply—and we want to be there to tell them about our culture, life at Althea and answer their questions."
Job seekers who want to meet and network with representatives from Aerotek, Ajinomoto Althea, California Life Sciences Association, Carlsbad Technology Inc., Dart NeuroScience LLC, Dynavax Technologies (DVAX), Hologic, Kite Pharma, Inc. (KITE), Nevro Corp., Sangamo BioSciences, Inc. (SGMO) and other Biotech Beach life sciences employers can do so at the San Diego Marriott La Jolla on October 30 from 1 p.m. to 4 p.m. Each organization will be conducting on-site in-depth private interviews with candidates as they recruit for multiple job openings.
Pre-registration for the event is required, as is submission of a resume for pre-screening and approval for the one-on-one 15-minute interviews. However, this effort on the part of job seekers is more than rewarded by the opportunities this fall's Talent Connect employers are offering.
According to Holly Shipitalo, human resources generalist at Dart NeuroScience, the organization will be actively hiring for numerous openings ranging from clinical development and pharmacology to scientific computing. "We will have hiring managers from various scientific disciplines attending Talent Connect," she recently told BioSpace. "We plan to recruit for Scientist, DMPK; Research Associate, Structural Biology; Scientist, Pharmacology; Scientist, Computational Chemistry; and Scientist, Structured Guided Chemistry."
Ajinomoto Althea will be interviewing for opportunities across its organization. "Our busiest areas tend to be in biologics (drug substance), QA, and fill finish (drug product) departments," Kelly told BioSpace. She further adds, "We're excited to talk with everyone, but we are especially interested in speaking to potential candidates with project management and technology transfer backgrounds. We have some key roles we are looking to fill in these areas. Since we are hiring in many areas, we encourage prospective candidates to look at all of our current openings listed under the careers portion of the Althea CMO website."
"Hologic San Diego has focused on growing our sales, marketing and R&D departments this year," Herman told BioSpace. He said, "Due to strong revenue and market share growth, we've been able to add a number of newly created positions within these areas, and I expect we will continue to focus on hiring outside sales reps, product managers and experienced R&D scientists in our assay development group. There is an exciting commitment here to attract top talent into the organization!"
Southern California's start-up culture is continuing to attract venture capital interest as well. According to data from JLL, 65 percent of total venture capital invested in San Diego went to biotech companies last year. Recent investment reports from PricewaterhouseCoopers and the National Venture Capital Association show investment in San Diego biotechs increased an astounding 265 percent from second to third quarter 2015.
https://captis.com/wp-content/uploads/2015/10/enewsletters.biospace.combiospace-news-TalentConne-ac8ef27687427383bbef6c68f627b855091479e7.jpg
450
815
CAPTIS
https://www.captis.com/wp-content/uploads/2016/11/logo_transp_top_final.png
CAPTIS
2015-10-26 16:00:00
2017-03-22 17:47:43
Southern California Mobilizes for as Life Science Companies Tackle Current and Future Staffing Needs